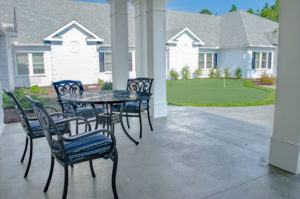 Decks & Patios – The Perfect Outdoor Living Space
A new patio or deck from the Verdant Landscaping team creates the perfect environment for great outdoor living. Whether you want a area to spend time with family, or just one to relax and unwind in, a deck or patio is the ideal solution. These backyard (or frontyard) features, add both beauty and value to your home's exterior and can become the focal point of your entire landscape.
A properly designed and installed deck or patio, quickly turns an empty space into an area ready for the joy of any social gathering or family get together. So what are you waiting for?
Minding the Details Is What Sets Our Deck & Patio Design Apart From the Competition
In order to help create an enticing and functional outdoor living space, our professional landscape designers and architects consider the following:
Your Deck or Patio Project's Surroundings
Your Deck or Patio's Site Design
Materials to Be Used for Your Deck or Patio
Surroundings
Our design professionals can help you navigate your surroundings in order to create a deck or patio that enhances its surroundings in an organic way. If your home is more formal, using symmetrical shapes like rectangles or semi-circles in the landscape design for railings or trim can help echo the formality of the architecture.
If your home is more informal, implementing asymmetrical shapes and curves in your landscape plan will allow your outdoor space to feel like an extension of your home.
Site Design
It is important to consider the topography, physical obstructions, exposure, and climate before settling on a design for your patio or deck. If you're looking to design a raised deck off the back of your house, taking the use of space under the deck into account is just as important as the shape and size of the deck itself.
Understanding the rise and fall of your property and how the runoff water drains away from your home is vital to creating a deck or patio design that will age gracefully. Verdant Design experts can take the guesswork out of your building plans by meeting with you at home and working on a deck or patio design together.
Materials
In order to ensure a deck or patio that will last, the right materials for the space need to be used during construction. Here at Verdant, we are experts in paver, bluestone, rock and concrete patio installations.
We are also certified in beautiful stamped and stained concrete applications. Our landscape designers work with clients during each step of the construction process so that you and your family can enjoy the outdoors for years to come.
Decks & Patios Designed to Both Your Dreams and Your Budget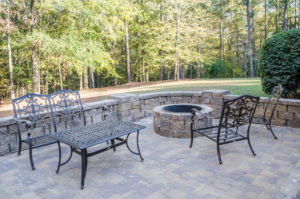 At Verdant Design landscaping, we understand that the deck, patio, or porch of your dreams may not always line up with what you can afford to spend. We have some good news though! Our design team has no issues with scaling designs to your budget, helping to find a look and layout that meet your expectations, without breaking the bank.
If the outdoor living space design you're in search for is still out of reach, our team can also work with you to find a project financing solution that can help you cover the cost. With how much value a new deck or patio can add to your home, financing a project can be surprisingly budget friendly if combined with financing opportunities.
We Love Building Decks & Patios in Augusta, GA
We've been blessed with the resources to be able to grow and expand our landscaping services in the Central Savannah River Area (CSRA) over the past ten years. Our service area now includes Augusta, GA; Martinez, GA; Evans, GA; Grovetown, GA; Aiken, SC; and North Augusta, SC.
We love our community and are very blessed to be able to service it's residents with their deck & patio needs on a regular basis. From the serene charm of the Riverwalk, to the frenzy of the Masters at Augusta National, this city has our heart.
If you're a resident of the greater Augusta, GA community and are looking for help with building a deck or patio, call the company that cares about doing the job right the first time. We'd like to show you our proficiency when it come to deck & patio design and building, and also our commitment to our community's natural environment through our state-of-the-art sustainable landscape design practices.
Give us a call to start discussing your deck or patio project.
Deck & Patio Pricing
Wood Decks – Starting at $12,987 + Design Cost
Concrete Patios – Starting at $9,891 + Design Cost
Paver Patios – Starting at $7,891 + Design Cost
Stone/Brick Patios – Starting at $12,814 + Design Cost