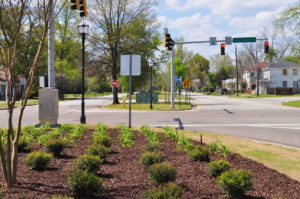 Need shrubs and trees along your public path or road? Want to add some shade to your business's lawn? We have you covered with our well thought out and executed planting services. Whether your commercial space just needs bi-weekly or monthly maintenance of the lawn edges or the trimming of trees and shrubs, or if you're wanting to add seasonal color by planting annuals like forsythia, pansies, or summertime bulbs, Verdant Landscaping has you covered.
Our Landscape Planting Principles
No matter what your end goal is, we adhere to the following principles to maximize the curb appeal of your business or residential common area:
Beautify & Attract
First impressions are life and death for a business or community which is why Verdant Designs prides itself on choosing beautiful native plants that will enhance the surrounding architecture and entice customers, clients, or guests to return again and again.
Resource Conservation & Sustainability
Implementing water and energy conservation techniques into your landscape design can help your company or community save money while helping out the planet. Shrub and tree placement can help shade the public property which cuts down on A/C costs during the hot summer months, and understanding which plants can help with runoff and drainage problems will help save on water costs all year long.
Purpose Driven Design
Most commercial landscaping takes place around and/or leading up to a community's or business' main entrance which is why it is important that the design of the landscape encourages a natural physical and visual flow. By highlighting the entryways with native shrubs or trees, or using flower beds to line pathways towards the entrance, your community or business will be able to make a bold and inviting statement to all visitors.
Take a look at our team's recent Augusta, GA commercial landscape plantings from our gallery below for inspiration for your community's next project.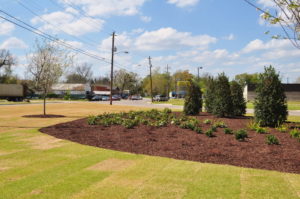 What We Love About Landscape Plantings in Augusta, GA
We're quite fortunate as a company to have been able to establish our landscape service in the greater Augusta, GA area in the past seven years. This is the home of our company, and the life-long home of almost all of our landscaping team members.
We love the city of Augusta and are so lucky to be able to provide planting services to beautify its roadways and business corridors. From the tranquil charm of the Riverwalk, to the buzz of the Masters, we're in love with this city.
If you're a local Augusta, GA business, organization, or government representative looking for the best planting services, call the team that cares about serving this city. We'd like to show you our proficiency when it come to landscape work and to our city's natural eco-system with our state-of-the-art sustainable landscape practices. Give us a call to start discussing your landscape project.