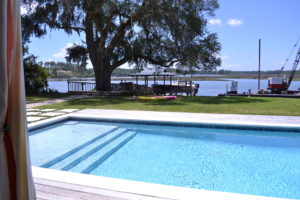 Relax in a Personal Aquatic Paradise
From new poolscape design to resurfacing your swimming pool area, we can give a fresh and inviting feel to your poolside. We create gorgeous pool deck applications as well as arbors, custom grilling areas, outdoor kitchens, dimensional planters and gardens, fencing and parapets that will not only enhance your properties beauty but increase its value as well.
In order to help you create the pool oasis you've been envisioning, our landscape design experts walk clients through the following basic phases of planning and poolscape construction:
Swimming Pool Design
More than likely, you've been dreaming of where and what your pool will look like long before you ever make the call to us. It is an honor for Verdant to bring those visions into reality, therefore we spend a lot of time working one on one with our clients during the design phase; this includes giving your pool an organic shape that fits the space of your property and enhances the areas surrounding the pool. We work with you to find the right color scheme, construction materials, and site location so you feel you've walked into the oasis of your dreams every time you step into your backyard.
Defining Your Poolscape
The design of the areas that surround the pool are just as important as the design of the pool itself. Our landscape designers work with you to find the best flow for your space; if your property needs a retaining wall for drainage purposes, we can incorporate that into the poolscape in an organic way that won't distract from the overall ambiance of your outdoor space.
Surrounding Landscaping
Here at Verdant Designs, we are big believers that when you can, you should let nature work for you, not against you. It is with this intention that our landscape architects sit down with clients to figure out which plants will not only enhance but benefit your outdoor space. Our horticulture and garden materials experts will help you utilize multiple plant-based mediums will help to add interest and texture to your outdoor poolscape.
Sample some of our recent landscape architecture work in Augusta, GA below and let us know how we can create the optimum environment for your pool enjoyment.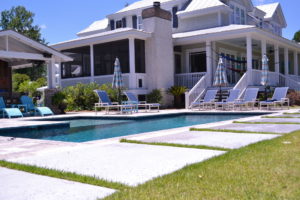 What We Love About Poolscape Design in Augusta, GA
We're quite happy to have been able to grow and expand our landscaping services in the Central Savannah River Area (CSRA) over the past ten years. Our service area now includes Augusta, GA; Martinez, GA; Evans, GA; Grovetown, GA; Aiken, SC; and North Augusta, SC.
We love the city of Augusta and are so lucky to be able to serve our friends and neighbors with their swimming pool and poolscape projects. From the tranquil charm of the Riverwalk, to the franzy of the Masters, we're in love with this city.
If you reside in the greater Augusta area and are searching for the best landscaping, reach out to the team that cares about their local community. We'd like to show you our proficiency when it come to swimming pool design work and to our area's natural eco-system with our ground breaking sustainable landscape practices. Reach out today to start discussing your landscape project.
Pool Installation Pricing
We only install gunite Pools, which start at $85,456 plus the cost of designing the project. We usually combine pool installations with other features, such as decks, patios, and plantings for complete "poolscapes". Please contact us for a detailed estimate for your specific project.