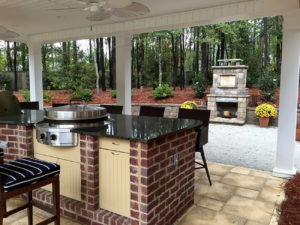 Enjoy The Outdoor Cooking Experience
Our custom outdoor kitchens and grilling areas are designed to enhance the enjoyment of your outdoor living space. Here at Verdant, in order to make sure your outdoor kitchen is an extension of your indoor living area, we walk our clients through all design aspects of their plan and incorporate their ideas and vision into our design. Outdoor kitchens can include, but are not limited to:
Appliances
From grills, built-in refrigerators & ice makers, to wine coolers, kegerators, & smokers, making sure you select the right appliances for your outdoor kitchen needs can be overwhelming considering the wide variety that's available. Our landscape designers can help you pick the right appliances for your space to ensure they meet all of your cooking, and entertaining needs, all while helping you stay within budget.
Lighting
It doesn't matter how beautiful your outdoor living space and kitchen might be if you unable to see it. Whether it's installing tasteful utility lighting around your outdoor kitchen workspace or imbibing a warm inviting glow around your outdoor seating area with solar-powered accent lights or a cozy fireplace, we can help you choose lighting that works best for your style, budget, and space.
High Quality Materials
Outdoor kitchens have to stand up to a lot more wear and tear than their indoor counterparts. The materials used in constructing your outdoor kitchen will have a lot to do with how well it ages out in unpredictable weather and temperatures. From the more durable materials like stainless steel and concrete to warmer mediums such as tile and granite, our landscape architects are experts in choosing the best materials for each project.
Whether it's smaller grilling areas or complete outdoor kitchens, we can create the perfect atmosphere for outdoor barbecues and gatherings with family and friends. Take a look at a sampling of some of our Augusta, GA landscape designs and projects below.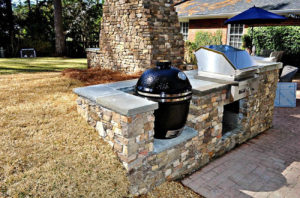 What We Love About Outdoor Kitchens in Augusta, Ga
We're grateful to have been able to grow and expand our landscaping services in the Central Savannah River Area (CSRA) over the past ten years. Our service area now includes Augusta, GA; Martinez, GA; Evans, GA; Grovetown, GA; Aiken, SC; and North Augusta, SC. members.
We love our local community and are very fortunate to be able to regularly serve our friends and neighbors with their outdoor kitchen needs. From the calm charm of the Riverwalk, to the franzy of the Masters at Augusta National, we're in love with this city.
If you're a resident of the Augusta community and are searching for the best landscapes, call the company that cares about doing the job right the first time. Let us show you our competence when it comes to outdoor kitchen design and to our city's natural eco-system with our ground breaking sustainable landscape practices. Give us a call to start discussing your landscape design project.
Outdoor Kitchen Pricing
Outdoor kitchens start at $7,891 plus the cost of creating the design. Please contact us for a detailed estimate for your specific project.