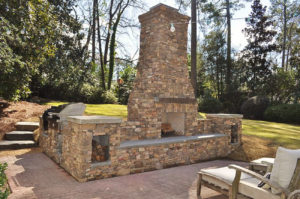 The Outdoor Fire Feature You've Been Dreaming About
Is there anything more relaxing than gathering around and enjoying an outdoor fire? From custom fire pits to complete outdoor fireplaces, we can create the perfect environment for you to enjoy with family and friends. During the planning stages, our Augusta, GA landscape designers will walk you through the fire pit and outdoor fireplace planning stages:
Size & Placement
When designing a fire pit, it is important to be aware of spatial relations, which means you don't want to install a fireplace or fire pit that swallows the rest of your space. This is important for both small and larger sites; with a larger lot, it is important to install your fire pit in a way that optimizes the space, and smaller lots need to be careful that the installation of a fireplace is seamless and organic with the surrounding space.
No matter your lot size, making sure your fire feature is adequately placed on your property will also help minimize the seasonal upkeep of your fire pit or outdoor fireplace. We will visit the site and help you determine what size and shape fire pit or outdoor fireplace will work best in your space.
Style
The style of your fire pit or fireplace will really be determined by the function of your space. For larger sites whose function is to entertain, a double-sided fireplace can add a warm and inviting focal point while also encouraging guests to spread out on either side of the fireplace.
A circular fire pit placed near a garden can help incorporate foliage into your entertaining space, while a smaller site benefits from having a small built-in fireplace to help make cramped spaces feel cozier. No matter the space, our landscape architects can help you determine the best size and placement for your fire-feature.
Look through some of our Augusta, GA landscape design projects below. We will be excited to help create an outdoor fireplace or fire pit your family will love.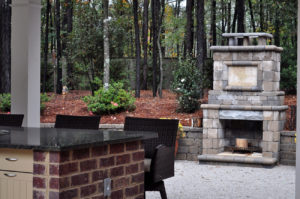 What We Love About Creating Fire Pits and Fireplaces in Augusta, GA
We've been blessed with the resources to be able to grow and expand our landscaping services in the Central Savannah River Area (CSRA) over the past ten years. Our service area now includes Augusta, GA; Martinez, GA; Evans, GA; Grovetown, GA; Aiken, SC; and North Augusta, SC.
We love our community and are so grateful to be able to serve our friends and neighbors with their outdoor fire pit and fireplace landscape feature needs every day. From the serene charm of the Riverwalk, to the buzz of the Masters, we're in love with this city.
If you reside in the greater Augusta, GA area and are looking for help with adding a fire pit or fireplace to your landscape, get in touch with the company that cares about their local community. We'd like to show you our proficiency when it come to landscaping and to our community's natural eco-system with our cutting edge sustainable approach. Contact us now to start discussing your landscape project.
Outdoor Fireplace and Firepit Pricing
Outdoor Fireplaces – Starting at $12,745 + Design Cost
Outdoor Firepits – Starting at $3,189 + Design Cost (Firepit installation requires a patio to build it on)