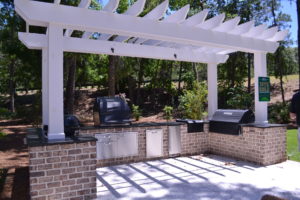 A Shaded Outdoor Living Feature You'll Love
A custom pergola or gazebo by the Verdant Design team will add aesthetic beauty and practical cover to any landscape. Whether you are looking to design a covered area for your pre-existing outdoor kitchen, or you're wanting to help define your space by building a gazebo for a beautiful garden focal point, our team can design and implement the perfect solution to your outdoor space needs.
Let Us Help You Bring Your Gazebo or Pergola Vision to Life
Our job here at Verdant Designs is to help you bring your vision off the page and onto your property, which means our landscape designers are experts in site planning and prep, as well as helping you choose the best building materials so your gazebo, pavilion, or pergola will bring beauty and functionality to your outdoor space for years to come.
We take our clients step-by-step through each design and construction phase; Verdant will help you choose the right structure base (concrete slab vs. concrete footings) and make sure the size of your structure is within regulation codes. Although most gazebos and pergolas are not considered permanent structures, many townships and municipalities have size requirements in order to maintain your property's level of safety.
Our Team Will Help You Jump any HOA Hoops
If your home is in a residential neighborhood, you may need to seek approval from your Homeowners Association for your outdoor structure. The building requirements for an HOA vary from neighborhood to neighborhood and may ask you to have structure materials, color, style, and/or location approved by the board members before construction may begin. Verdant has a thorough understanding of HOA protocol in the Augusta, GA area, and will be an invaluable resource to you during the planning and construction process of your outdoor structure.
Browse through some of our landscape architecture work in Augusta, GA and let us know how we can help meet your desires.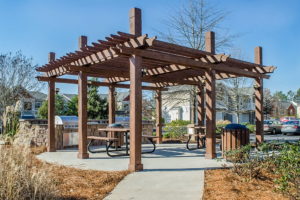 What We Love About Building Gazebos and Pergolas in Augusta, GA
We've been blessed with the resources to have been able to expand our landscaping services in the Central Savannah River Area (CSRA) over the past ten years. Our service area now includes Augusta, GA; Martinez, GA; Evans, GA; Grovetown, GA; Aiken, SC; and North Augusta, SC.
We love the city of Augusta and are very lucky to be able to service our friends and neighbors with their landscape needs every day. From the calm charm of the Riverwalk, to the stir of the Masters at Augusta National, we're in love with this city.
If you reside in the Augusta, GA area and need help designing your Gazebo or Pergola, get in touch with the team that cares about you and the city we live in. We're eager to show you our dedication to landscaping and to our city's natural eco-system with our cutting edge sustainable approach to landscaping. Reach out today to start discussing your landscaping project.
Gazebo & Pergola Pricing
Gazebos – Starting at $15,998 + Design Cost
Pergolas – Starting at $6,492 + Design Cost