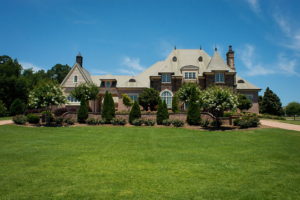 Irrigation Solutions for Any Property
Poor drainage and irrigation can be an issue and frustration for the best of landscapes.  Here at Verdant Designs, our team of professionals has years of experience implementing irrigation and drainage solutions all over Augusta, GA that will both protect your property and blend in aesthetically with your existing landscape.
The right irrigation system is critical to the development and health of your landscape. A properly installed irrigation system or commercial lawn sprinkler system can help a homeowner, business or community save money, conserve resources, and improve the look and feel of the landscaping.
We Have The Irrigation & Drainage Solutions Your Landscape Needs
Whether your landscape has a pre-existing irrigation system that's in need of repairs or you are looking to design an in-ground sprinkler system, our team of landscape architects will help take care of your landscape's irrigation with these solutions:
Augusta, GA Drainage Solutions
If your property is having issues with standing or pooling water, we offer extensive gradation services, downspout + swale installations, and french drains. Our landscape technicians help our clients find the best solutions to their property's problems.
Irrigation System Design & Installation
In-ground sprinkler and irrigation systems will help your commercial property thrive without having to lift a finger. Verdant's licensed irrigation specialists work with each client to ensure their irrigation system is as efficient as possible.
Irrigation Repairs & Maintenance
Whether your commercial property has an irrigation system that needs to be brought back to life with repairs, or you're looking to maintain your newly designed system, our team will keep you looking good.
Irrigation System Winterization
In order for your irrigation systems to hold up to the test of time and the outdoor elements, it's important to have systems serviced before colder weather sets in. Our irrigation specialists will keep your system running so your business or community looks its best.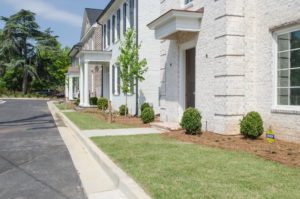 Our Drainage & Irrigation Team Is Ready to Assist
Our team of professionals have the expertise and know how to design and implement an irrigation system that will help your landscape thrive. If you're in the Augusta, GA area, give us a call today to schedule a consultation so that we can determine your irrigation and landscaping needs. Protect your landscaping investment by trusting our team to meet your home's irrigation needs.
Why We Love Providing Irrigation Services in Augusta, GA
We've been fortunate to be able to grow and expand our landscaping services in the Central Savannah River Area (CSRA) over the past ten years. Our service area now includes Augusta, GA; Martinez, GA; Evans, GA; Grovetown, GA; Aiken, SC; and North Augusta, SC.
We love the city of Augusta and are incredibly blessed to be able to service our friends and neighbors with their drainage & irrigation needs on a regular basis. From the tranquil charm of the Riverwalk, to the excitement of the Masters, we love this city.
If you're a resident of the Augusta, GA community and need help with irrigating or draining your landscapes, call the team that cares about doing the job right the first time. We'd like to show you our proficiency when it come to our craft and to our area's natural eco-system with our ground breaking sustainable approach to landscaping. Reach out today to start discussing your landscaping project.
Irrigation & Drainage Systems Pricing
Irrigation and drainage system installations start at $3,975 plus the cost of designing the system. Please contact us for a detailed estimate on your specific project.