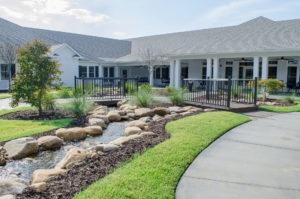 Parks and public leisure areas are vital components of a visually appealing community and sustainable ecological environment. A beautifully designed park can help to promote the natural sciences, improve community health by encouraging more outdoor engagement and play, as well as provide a community or business with an outdoor gathering area. Here at Verdant Designs, we excel at creating comfortable, attractive, and easy to maintain public gathering places. We've worked with clients in Augusta, GA on creating parks and playgrounds, apartment complexes and executive office parks, with impressive results.
In order to design an outdoor leisure area on your commercial or municipal property, our landscape architects will come survey the land and talk with you about a basic vision for what you're hoping your recreational area will function. From there, we marry your style concepts and ideas with our extensive knowledge of land conservation, drainage implementation, and the following park design concepts:
Structured & Unstructured Recreation Areas
When it comes to park design, it's important to have an idea of how you want people to engage with the park. Lots of paved pathways, defined flower beds, and designated play and socializing areas like picnic shelters are examples of a structured park. More unstructured concepts would be natural wooded trails with gathering and play areas that are organically incorporated into the land. Our landscape designers are experts at creating beautiful park spaces no matter the size of your commercial property.
Social Gathering Areas
Social Gathering: Where and how you want people to gather on your commercial leisure space is determined by how the park is set up. Do you want to set aside space for a parking lot? Do you want the recreational space to have defined picnic shelters with charcoal grills? These are just the first of many questions to consider when designing a commercial recreational space.
Natural Spaces
Green and natural spaces are a great low-maintenance way to bring out your commercial properties natural beauty while still enticing community engagement. Our landscape professionals are experts in native plants and sustainable landscape design, and they can help make your recreational space more available to the surrounding community.
Park Ameneties
Whether it's a two-story jungle gym for your recreational space's play area, public restrooms, or a parking lot, how, where and what your park has to offer the community will shape how and when the park is utilized. Verdant Designs can help you choose what amenities will best serve your community.
Take a look at some of our team's Augusta, GA public recreation designs from our gallery below to inspire a project for your commercial property.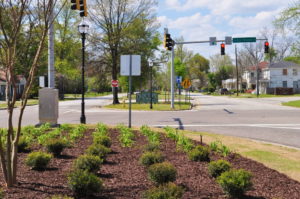 What We Love About Augusta, GA Park & Recreation Area Design
We're quite fortunate as a company to be able to expand our landscape design services in the Augusta, GA area over the past seven years. This city is the home of our company, but also the long-term home of almost all of our landscape crew members.
We love our local community and are so grateful to be able to serve it by designing enjoyable and relaxing parks and recreation areas. From the tranquil elegance of the Riverwalk, to the stir of the Masters, this city has our heart.
If you represent an Augusta, GA business, organization, or government agency, and need a park or recreation area designed and installed, reach out to the company that cares about their local community. We'd like to show you our proficiency when it come to landscape work and to our city's natural environment with our state-of-the-art sustainable approach to landscaping. Give us a call to start discussing your landscape project.