Dine Al Fresco at Home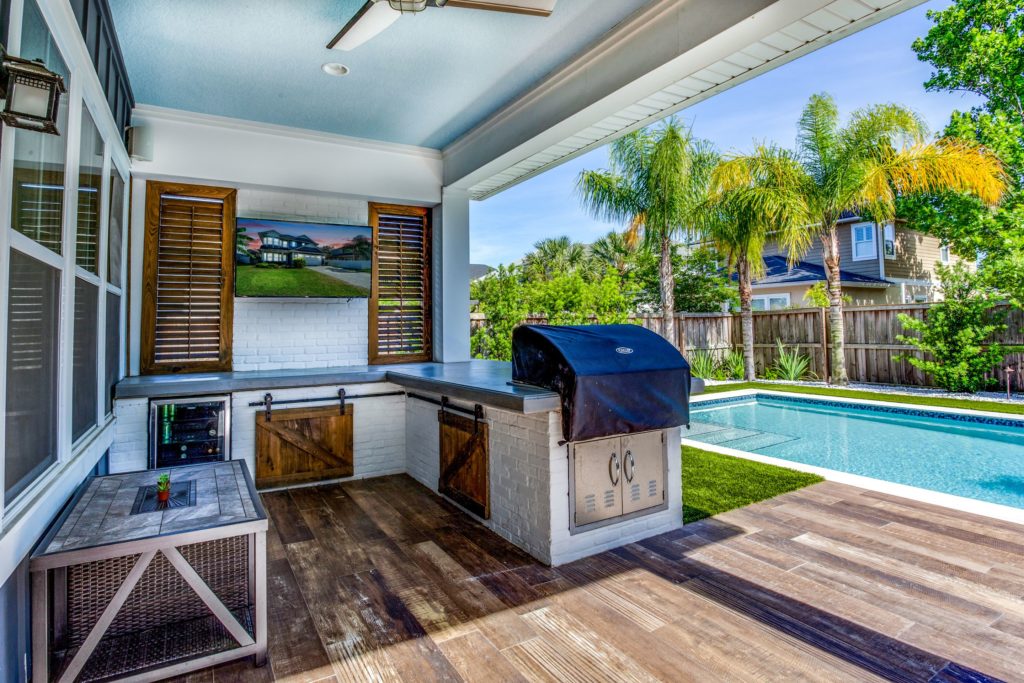 There are many great reasons for installing an outdoor kitchen in your home, not least because it creates a fun space outside. In the warm summer months it can put a strain on your home's air conditioning when you're cooking indoors, increasing the heat inside your home and forcing the AC to work harder. Cooking outdoors can prevent this extra energy usage, and it can also provide a big, open space in which to cook where people aren't always bumping into each other as they would indoors.
There are several things to consider when designing your outdoor kitchen, and below we've provided some helpful tips to guide you through the process.
1. Number of Guests
The materials, features, and appliances you purchase for your outdoor kitchen should all depend on how many guests you're likely to entertain. For example, if you host parties that regularly accommodate more than ten people you're going to need a substantial oven and a suitably sized seating area. However, if you only plan to host your family or a handful of guests you won't need to spend the extra money on larger facilities.
2. Weatherproofing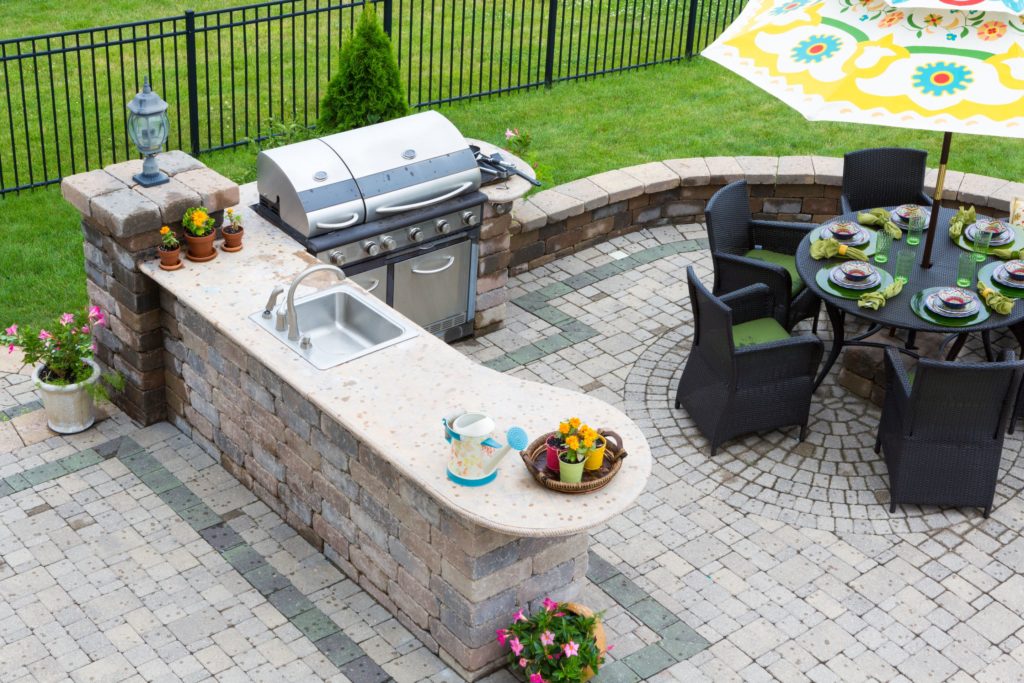 It's important to make sure that all materials and appliances purchased for your outdoor kitchen can withstand the elements when left out during the fall and winter months.
It's also advisable to install shelter for your outdoor kitchen area, perhaps under an awning or inside a gazebo area. These are also fashionable landscaping choices and will enhance your outdoor entertainment area. Alternatively, you can have an open outdoor kitchen and purchase appliances that can be transported indoors during the colder seasons.
3. Positioning
When cooking outside it is likely that you'll be entertaining guests. For this reason, you'll want to make sure that you position your kitchen in a manner that you can still converse with guests in the yard while you're cooking. It's good to have countertops facing the rest of the yard and your dining area positioned close-by.
4. Storage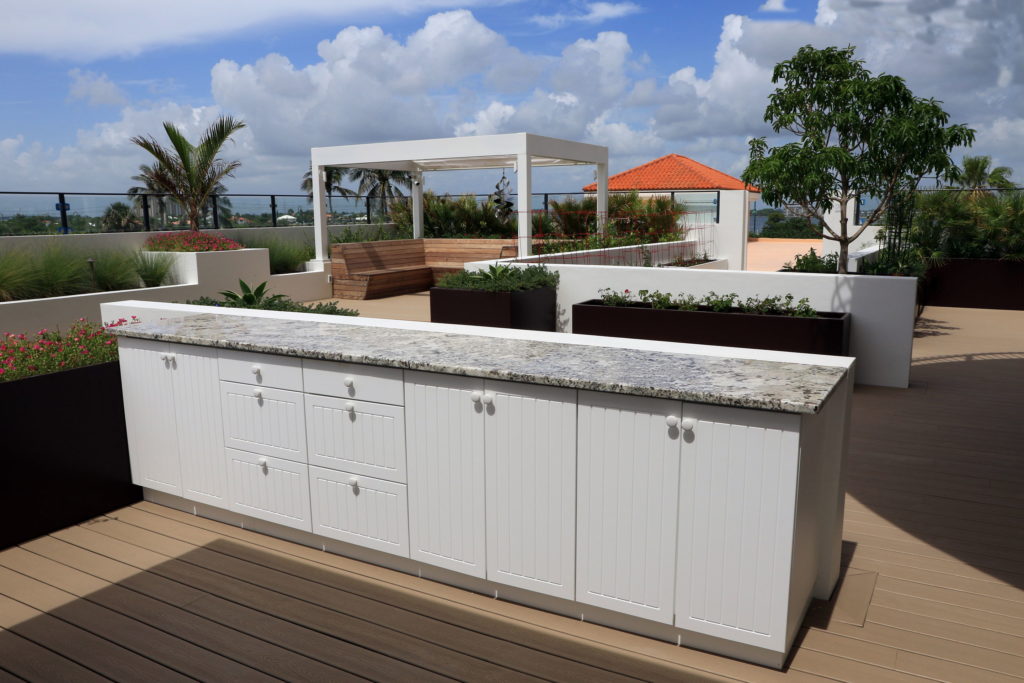 It's good to consider whether you'll want or need any storage space outside, such as cabinets, for any appliances and kitchenware you'll use in your outdoor kitchen. Perhaps you'd rather store everything indoors and transport it as and when you need, in which case you won't need to consider storage as part of your design.
You may find that you'd like to have an outdoor refrigerator, whether a full-size or mini-fridge. Making this decision while still in the design stage can ensure that your outdoor kitchen is built with the necessary room for a refrigerator.
5. Lighting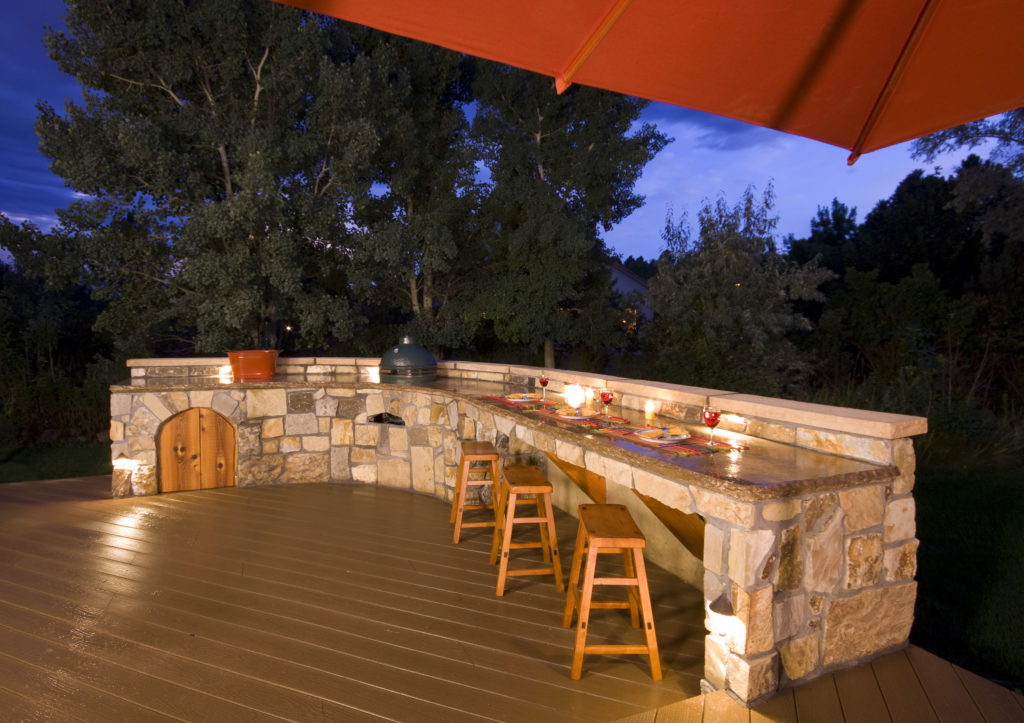 To design and install an outdoor kitchen is an investment in your home; it adds significant value to the market price and also provide you with an invaluable entertainment area for quality time with friends and family. To complete your outdoor entertainment area you should consider the aesthetics, too.
String lights and other variations of overhead lighting are a great choice for outdoor dining areas. In the kitchen itself you could attach overhead lighting to the shelter or install floor lights and countertop lighting to achieve a softer aesthetic.
If you'd like to discuss designing an outdoor kitchen for your home, don't hesitate to give us a call here at Verdant Landscape.