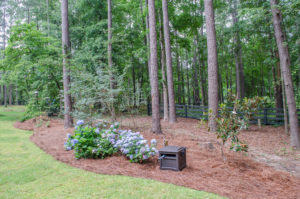 Your house is one of the most significant investments you will ever make, and with it, your yard. You want your yard to look its best. Most people pay attention to the landscaping along walkways, and near the front and back doors, however, trees sometimes stand alone in the yard, which can look rather dull.
If you want to make your yard look more attractive and less plain, landscaping is the key. Adding some landscaping around trees can make your yard look much better, drawing eyes and envy from your neighbors. Here are some tips for improving the look of your yard:
Consider Using Wood Chips
Using wood chips around the base of your trees can look appealing and has potential benefits. Try building a mound of dirt around the bottom of the tree and covering it with wood chips.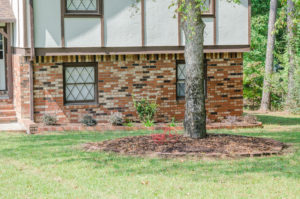 Creating a mound covered with wood chips has two main benefits. One is that it will prevent soil erosion when it rains, which can be especially helpful with trees close to the perimeter of your house.
Another advantage is that it is low-maintenance. One challenge with landscaping is that it generally requires regular weeding. Weeds are less likely to grow up through wood chips.
Create a Garden Space in the Shade
Mature trees create a great deal of shade beneath their branches. Use this to your advantage by building a garden space with plants that don't require much sunlight. Create a garden out of low-sun plants, such as hydrangeas, lady ferns, and dogwood.
Once you've set up a lovely garden, put a bench under the tree. Landscaping around trees is a great way to create a comfortable, relaxing place to chat or read a book.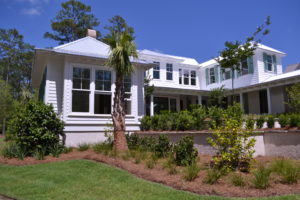 Build a Cement Wall to Enclose a Seating Area
Form a stack of cement blocks, about three to five blocks in height, creating a wall around the tree. Then, you'll want to pave the ground within the walls around the tree.
Set up a table or two with some outdoor chairs within the enclosed area. Vary the number of chairs based on how many guests you want to have. This beautiful shaded area becomes the perfect spot for entertaining guests al fresco.
Paint a Colorful Scene
Landscaping around trees can be a great way to paint a pretty scene with a variety of colorful flowers. Choose plants with bold colors, such as impatiens and begonias.
The advantage of planting bright flowers around trees is that it will give your yard instant curb appeal. An eye-catching pop of color will make your house and yard stand out.
Use Landscaping to Work with a Sloping Yard
Many people have yards that slope toward the road, which can be a real challenge to work around. Landscaping around trees is one of the most straightforward solutions for dealing with a sloping yard.
You can backfill some dirt to build up the area around the slope and make it leveler. Add bricks or wood to create a frame around the soil, and then add flowers or other plants as you see fit.